[Updated April 14] To prevent the spread of the coronavirus in Xi'an, lots of touristic spots and business are also closed till further notice. All events and public gatherings are cancelled, and this will still take a while.
Restaurants and bars have re-opened, though have to apply and take precautions in order to get permission. These depends on which district, though usually include measurements like registration, temperature check upon entry, 1.5meter distance between tables, limited number of people in the venue, among others.​
It is a really crucial time to come together as a community, and support the local businesses that we love. Or they will disappear forever.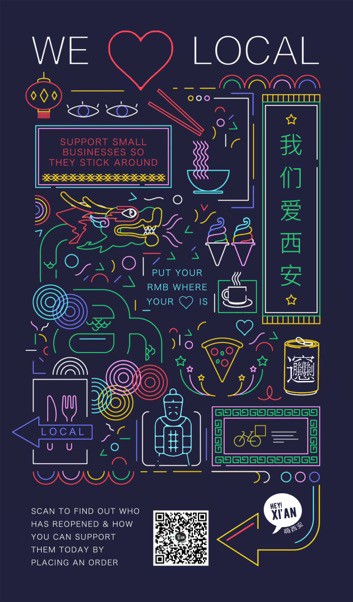 For a list of what's still open, please check below (please not it's best to call ahead before going to a place though).
We will try to update this list as frequently as possible, please scan the QR code below and let us know any if you know of any updates.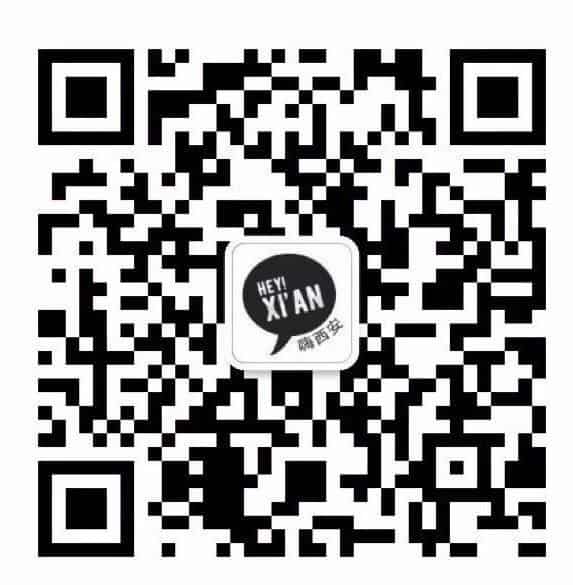 Healthcare
---
Do you have a fever and/ or other symptoms of the deadly coronavirus? Not every hospital can accept you, click here for the list of dedicated fever clinics in Xi'an.
•Global Doctor :Open 09:00 – 18:00
Clinic Tel:+86(29)8111 2673
Shopping and Services
---
•Carrefour Open Daily
•Decathlon Open Daily, 9am – 9pm
•G Park Open Daily 10:30am-10pm
•Glorious Plaza Open Daily 10am-10pm
•Greenland Open Daily 11am-8pm
•Joy City Open Daily 10am-10pm
•MOMOPARK Open Daily 10am-10pm
•SAGA International Shopping Mall : Open Daily, 11am-9pm
•SKP Open Daily, 11am-9pm
•Wanda Gaoxin Open Daily 10am-10pm
•Zhongda International Open Daily 10am-10pm
Schools
---
According to the latest official information of the Chengdu Education Bureau, the opening schedule of schools in Chengdu is as follows:
• High School 12th grade: March 30
​• Junior school 9th grade, Secondary vocational school Senior grade: April 7
Other grades, international schools, special education schools, and kindergartens start date will be determined at a later date, but will be no earlier than April 7th. The order for reopening schools shall be: other grades of middle and high school – primary schools – international schools – special education schools – kindergartens.
The start date for colleges and universities will be announced at a later date, depending on the current epidemic situation at that time.
The Ministry of Education accounced that the Gaokao (the unified examination for the admissions of colleges and universities) is postponed to July 7-8.
Restaurants
---
•Amber Palace Asian Indian Fusion Open 11am-9:30pm
•Acquolina Open 11am-8pm
•Blue Frog Bar & Grill Open, 12am-6pm
•Camel Bell Castle Restaurant Open 11am-11pm
•Ganges Indian Restaurant 恒河印度餐厅 Open, 10am-10pm
•Green Molly Open 11am-10pm
•Isola del Nord | 意大利餐厅 Open, 11:30am-2pm, 5:30pm-9pm
•Jim's Cuisine | 吉姆厚牛排 Open 11am-10pm
•McDonald's/ KFC Open daily, delivery & take-out
•MOJAR Mexican Food and Bar | 么哈 Open 5pm-5am
•OpenEat Lifestyle Hub Open 10am-10pm
•Peters Tex-Mex Open 10am-8pm
•Starbucks Open
•Redfort Indian Restaurant 红堡印度餐厅 Open 10am-10pm
•Thai Food Show Open, 11:00am-2:30pm; 5pm-10pm
•Thai Flavours 泰极香珑 Open 10am-0am
Bars & Clubs
---
•Aperture Club 西演LIVE 光圈CLUB Closed
•Bar Take Five Open,7pm-2am
•Commune Open, 11am-10pm
•Dahua 1935 Open
•De Fu Lou Cafe & Bar 德福楼 Open 10am-2pm
•Green House Bar Whisky & Cocktail Open, 6:30pm-2:30am
•Koi Bar 锦䲞吧 Open, 6:30pm-2:30am
•Lenbach Open 11am-10pm
•Mao Livehouse Closed
•MC Whiskey & Cocktail Bar MC麦坊酒廊 Open 8pm-2am
•Meeting Jazz Club Open 7:30pm-2am
•MOJAR Mexican Food and Bar Open 5pm-5am
•Miami Club | 迈阿密酒吧 Closed
•MUSE Open 8:30pm-6am
•Near Wall Bar and Xian Brewery Closed
•Papaya Open 8:30pm-6am
•Park Qin Open 7:30pm-3am
•The Belgian Bar 杰诺比利时酒吧 Open, 5:30pm -2am
•The 3 Jazz Club Open 2pm-2am
•Vinylhouse Xian Open 7pm-3am
•Xi'an Brewery Open 4pm-1am
Museums and Touristic Spots
---
Due to the coronavirus, all big events (incl. lantern festivals) are cancelled and touristic sites are closed until further notice. But most of the outdoor areas of scenic spots are open.
•Daming Palace National Heritage Park: Free-zone Open
•Grand Tang Dynasty Ever-bright City: Open
•Greater Wild Goose Pagoda: Square Open
•Huaqing Scenic Area Open 7am-5pm
•Mount Huashan Closed
•Shaanxi History Museum Open 9am-5pm, Closed on Monday
•Terracotta Warriors Open 9am-5pm
•The Tomb of Emperor Qin Shihuang Museum Open 9am-4pm
•The Forest of Steles Museum Open 8:30am-4:40pm
•The Emperor Hanjing Yangling Museum Open 9am-5pm
•Xi'an Museum Open, 9am-5pm, Closed on Tuesday
Got any questions?
Let us know in the comments!