Profile
Xi'an Terracotta Army 兵马俑
The Terracotta Army in Xi'an, aka Terracotta Warriors and Horses, is a breathtakingly large collection of life-size terracotta sculptures in battle formations, reproducing the mega imperial guard troops of Emperor Qin Shi Huang (259 – 210BC), the first emperor of the first unified dynasty of Imperial China.
Being the most significant archeological excavations of the 20th century and a UNESCO World Heritage Site, the Terracotta Army is no doubt a must-see for every visitor to Xi'an
Originally the ancient funerary project for Emperor Qin Shi Huang, the Terracotta Warriors China are now displayed in a live museum built on the site, officially named Emperor Qinshihuang's Mausoleum Site Museum, showing the life stories of the emperor and the once powerful Qin Empire (221 – 207BC) in those days of pomp and vigor.
History
In 221 BC, a few years prior to the Roman Empire's engagement in the Second Punic War with Carthage, Alexander the Great's Greek Empire had fallen apart, and the Indian Maurya Dynasty had faded leaving south Asia divided and at war, a powerful and prosperous dynasty was established in central China. This was the Qin, the first period of entire unification of China. At that time, the dynasty was the most powerful state in the world with a population of 20 million and annual revenue worth 2,000 kilograms of silver. The powerful military and economic strength of the nation enabled the completion of such a great wonder – the huge funerary project with numerous terracotta warriors guarding the First Qin Emperor's mausoleum. This giant project was stopped and buried underground since 208 BC.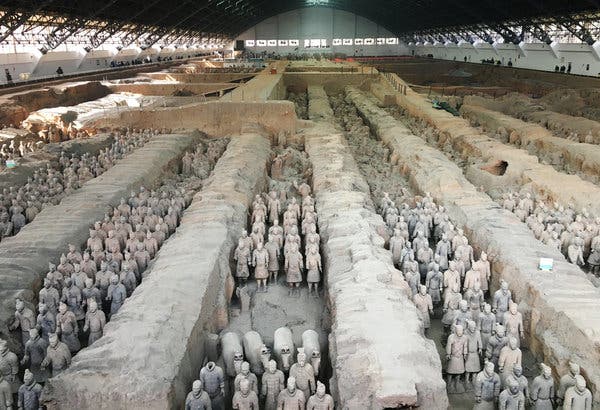 1. Museum of Qin Terracotta Warriors and Horses
It contains 3 major pits tagged in the order of their discoveries and the Bronze Chariots and Horses Exhibition Hall.

 Pit 1:   the largest; found in 1974 and opened to the public on Oct. 1st, 1979. There is the vanguard in three rows followed by a massive battle array of infantry and war chariots.

 Pit 2:   found in 1976; 20 meters northeast of No. 1 Pit. It is the most spectacular one for the variety of divisions including infantry, crossbow team, cavalry, and 80 chariots.

 Pit 3:   found in 1976; 25 meters northwest of No. 1 Pit. It was the command post of the armed forces, with 68 warriors and a chariot led by four horses.
Opening Times: 
8:30 – 17:00 Monday – Sunday
Ticket Price: CNY 120
*Visitors need to show identity cards or passports when buying tickets and entering the museum.
Audio Guide:
Rent: CNY 40 per person; Deposit: CNY 100
Address: Qinshihuang Terracorra Warriors and Horses Museum, Qinling North Road, Lintong District, Xi'an City 西安市临潼区秦陵北 路秦始皇兵马俑博物馆
Opening hours: March 16 to November 15: 8:30 – 18:00, ticketing stops at 17:00; November 16 to March 15: 8:30 – 17:30, ticketing stops at 16:30
Reviews